>
Home
Admissions
REGISTRATION and ENROLLMENT INFORMATION
2022 - 2023

School Year 2022 - 202 starts August 15, 2022
REGISTRATION FEE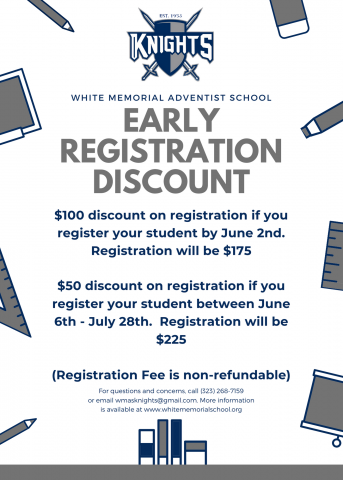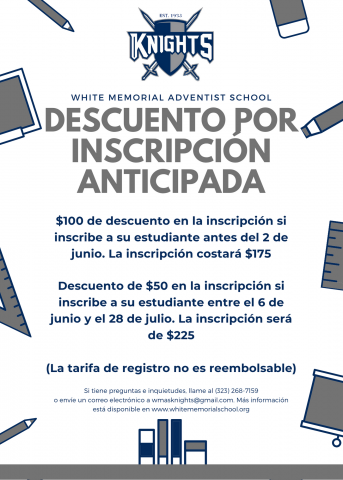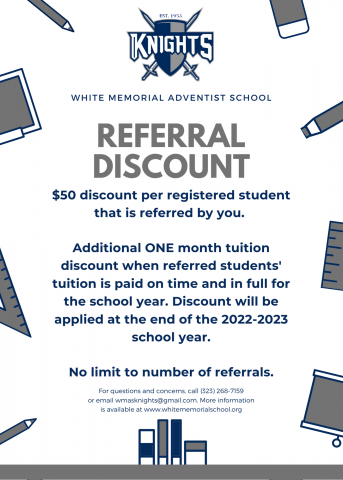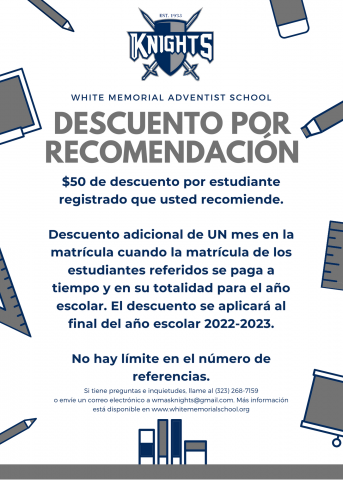 TUITION
Grades TK/K-8  @ 10 monthly payments of $375 (August-May) for SDA
Grades TK/K-8  @ 10 monthly payments of $400 (August-May) for Non-SDA
Illness/Vacation: There are no adjustments or refunds for any days missed for illness, vacation or holidays.  Rates have been calculated to include closures. The rates are fixed and tuition income is calculated by enrollment; therefore tuition credit cannot be given for any missed time.

Home and School Monthly Dues     - $5.00 per family
 
Financial Contract
A signed Financial Contract for the school year is required from each family.
 
Financial Clearance for Trips, Registration, and Diploma
Students must have financial clearance from the office before they can receive a graduation diploma.
All accounts held by a family, current and past, will be considered for registration.
Students may be asked to settle outstanding balances at other SDA schools prior to registering at WMAS.
Financial clearance is required before students are allowed to take part in school sponsored overnight trips.
 
Billing Statements & Payments
A statement itemizing all charges (tuition, unpaid lunch, and all others) and payments will be sent ten times during the school year. Payment is due every 9th of the month.  Cash, check, credit card, and online payments are accepted.
 
Checks or money orders should be made payable to White Memorial Adventist School. 
 
If a check is returned for any reason, a fee of $35.00 and bank fee will be charged.  A past history of returned checks for insufficient funds will require that payments be made in cash, cashier's check, money order, or debit transaction.
 
It is important for the school to collect payments due in timely manner.  Therefore, please note that students scheduled to graduate will not be allowed to participate in the graduation activities unless they have a "zero" balance at the end of the school year.
 
Athletic Participation Fee
White Memorial Adventist School Athletic Department is a self-funding organization.  In order to participate, students must pay an Athletic Participation Fee.  This fee covers expenses such as equipment, referee's fee, uniforms, etc.
 
Financial Aid
WMAS offers the following discounts (ONLY ONE discount applies to each family):
     -   *School Matching Assistance – up to $25.00. 
          Church members of our local constituent churches may qualify for education aid. Check with your pastor for details.
         *Payment must be made by the 9th of every month and not fall behind or discount will be taken away.
    -   *WMMC Employee Discount – up to $50.00. 
Tuition paid for the whole year (5% discount if paid in full by October 2022)
Daycare
Due to COVID-19 we currently only offer daycare on Fridays from 12:30 PM to 3:30 PM.
For our 2022-2023 school year we will have daycare from Monday - Thursday from 3:30 PM to 6:00 PM, and Fridays from 12:30 PM to 4:00 PM.
Between 3:30 - 4:30 PM - $8.00/student
Between 4:30 - 6:00 PM - $10.00/student
After 6:00 PM - $1.00/minute/student
Please note our daycare is subject to change in hours or cancelation if there is a notice of insufficient students during daycare.